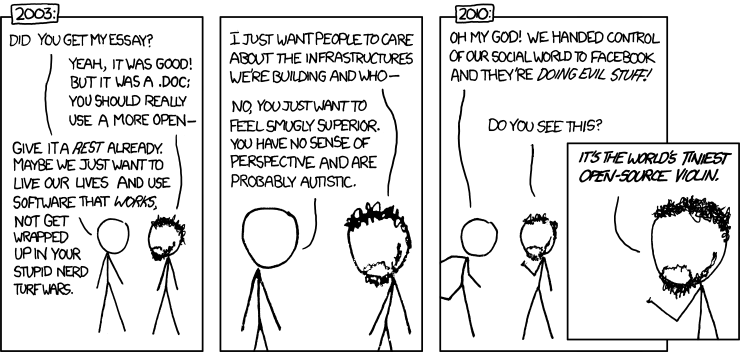 (XKCD's most recent comic is relevant to our interests)
As of today, if you do a Google search for 'facebook scandal', you will get 14,000,000 results. While I'm sure that some of those stories refer to individual instances (which we'll talk more about later), a great number of those have to do with huge TOS changes and infringements that have been going on as far back as early 2008. The biggest scandals aren't between individual parties on Facebook so much as between Facebook and its users as a whole. People are upset about everything, but perhaps most reasonably about assumed privacy. The idea that manually opting out of having our information sold to private parties — and that taking care to make certain information, posts, pictures, and other media private or restricted only to a select few is actually meaningless if the interested party is willing to pay cash up front — seems dishonest if not actually illegal. It doesn't help that Zuckerman has been quoted saying some less than advisable things about the intelligence of people willing to trust him with their personal info. This is driving several users to make statements by removing their content completely.
Quit Facebook Day is happening on May 31, 2010. The specially dedicated website offers reasons why people are quitting, options for interested party, and a counter in the right column that (as of this post) numbers at 12526. That's almost 13,000 people.
Therein lies the problem with this whole debacle. To Facebook, its advertisers, and its investors? 13k users is a drop in the bucket. Hell, if that number reaches 30k by the end of the month it still wouldn't have anybody changing policies that are clearly so profitable. According to OpenScandal (linked above), here's their financial breakdown of 2009:
# $125 million from brand ads
# $150 million from Facebook's ad deal with Microsoft
# $75 million from virtual goods
# $200 million from self-service ads
Facebook is rolling in money. Rolling. In it. The online journaling site Livejournal was recently outed for allowing pop-up ads with embedded adware that they almost definitely knew about, and did not remove once they were explicitly informed. And why would they? As a business model, most members of the site, whether they pay for extra features or simply 'pay' by seeing the ads at the tops of their screens, don't understand what they're giving up… or don't care enough to switch to a less popular service that has more honest policies. Until or unless the customers unite more effectively and use their buying/ad-looking power to strong-arm these companies to look at something other than profit, we're going to see these headlines over and over again.